Bleisure: The art of successfully combining a business trip with a holiday
Bleisure is a current buzzword in the holiday industry. It describes a trip that combines a business trip and a holiday. The leisure holiday that combines a bit of fun and a bit of work is gaining in popularity. If your company account is paying for you to go on an exciting trip to a far-flung destination, then why not spend a few pleasurable days with a partner, or even your whole family, at either the beginning, or the end of your business trip.
Instead of losing sight of your trip priority; the work task at hand, meeting or conference you're scheduled to attend, you will be more focused. Essentially you won't be cutting corners, trying to buy yourself a few more hours of time in your destination to explore, buy gifts, or try out that restaurant you read about in your travel guide.
You certainly won't be alone in adapting your trip to suit both your business and leisure needs. It has been reported that between 70 and 80% of business travellers will take time out of their work itinerary to explore the surrounding area of, or enjoy a leisure activity in, the destination. A third of business travellers are believed to book specific leisure days into the trip and again one third will take a partner, or their children, with them for the whole thing.
Here at Aspen Travel, we have both a holiday booking department and a business travel team. We have access to hundreds of luxury, all-inclusive packages at resorts all over the world, provided by leading international travel brands. Thanks to our business team, we can adapt and tailor your journey to suit your specific needs.
Let us take all the stress out of organising your schedule to give you a trip that will allow you to be where you need to be at the appropriate time and include in it an exhilarating, yet relaxing break with your family. As a respected booking partner for Club Med we can find you accommodation in a resort that will give you a generous menu of leisure facilities, including sports tuition, as well as access to a full on-site business suite.
You will be able to use the business centre for checking in with your HQ, or working on your project remotely. There are a number of different ways we can help you fulfil your work needs in your exciting work destination, without you feeling like you're missing out on the fun.
Bleisure tips to ensure a smooth journey
Although the Aspen Travel team can take care of every aspect of your travel reservations for you, two things to bear in mind as a bleisure traveller is your travel insurance and tax deductions. It's highly likely that your company will only insure you for work done on company time while you're abroad. If you're adding days to your trip, youll need to sort out extra insurance to cover those days. Additionally, if you're planning to take on any extreme sports, you might need your travel insurance to reflect this. It's no good breaking your leg while trying to windsurf, only to be handed an enormous medical bill for your efforts!
As for tax deductions, again this will only apply to the business portion of your trip. Seek tax advice if you're uncertain about how much tax should be paid or deducted.
Business facilities at Club Med resorts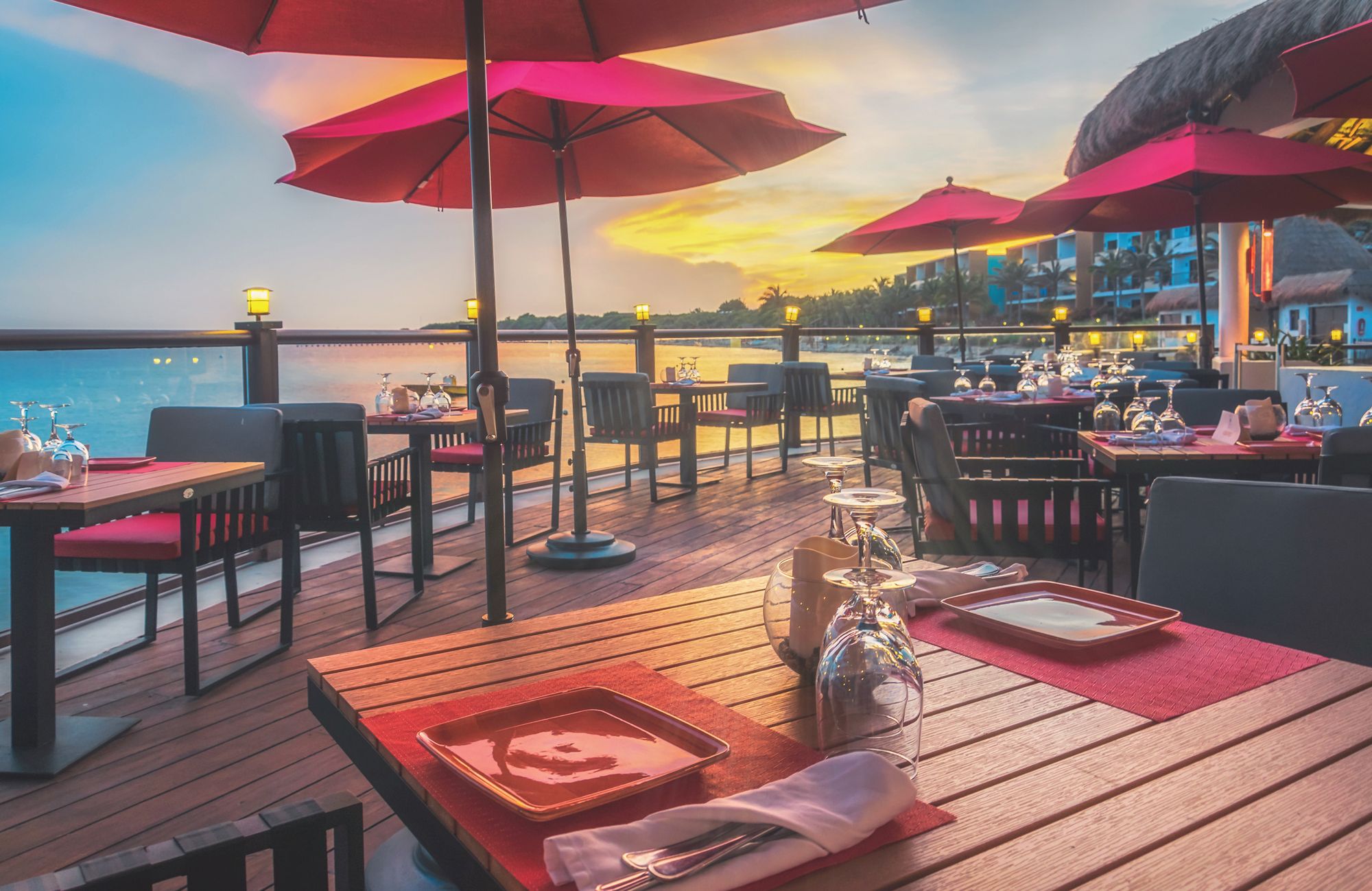 Club Med prides itself on cutting edge business facilities. All resorts should provide conference and meeting rooms, which you can use to brief customers and co-workers. Wi-Fi should be throughout the resort and there are social areas where informal discussions can take place, should your negotiations benefit from a more relaxed atmosphere.
The resort accommodation is available in varying standards. If you have a particular preference or requirement for your room, please make that known to the Aspen Travel team member when you make your booking.
Gourmet meals will be provided in the resort restaurants. Waiting staff will be able to find you a quiet corner to speak confidentially to your clients over your meal and scheduled evening entertainment will provide you with something to do after office hours. There will also be a spa centre and a huge range of sports available to keep you and your clients busy. How many deals are struck in the basketball court, or over a game of tennis? You'd be surprised.
The multi lingual Club Med business team will be on site and on hand to ensure your meetings or conferences run smoothly and on time. They will ensure refreshments are provided at the relevant time and that your privacy is maintained.
Then, once the clients or co-workers have left, you'll be able to make the most of the leisure activities both on-site and in the surrounding area. In your free time, youll be able to explore places of local interest and maybe even go on an excursion or two before it's time to fly back.
Mark Warner team building weeks
Team building weeks are ideal for helping you develop your support skills with co-workers and encouraging employees to work more efficiently. Mark Warner holidays offer a number of sports activity weeks. These serve as the ideal setting for turning up the pressure on those with whom you work, in order to improve company results.
Choose from sailing weeks, during which a crew must learn to work together, or cycling weeks, which are a test of your stamina and keeping up with the crowd. Skiing, windsurfing or tennis weeks are also possible. Well be able to advise you in more detail about the Mark Warner activity weeks when you give us a call.
Aspen Travel holidays
Whether youd like to add a short break onto your business trip, or a two week escorted tour, we can help find a luxury all-inclusive holiday package to suit your specific needs. Single resort holidays are a chance to relax, unwind and get to know the region in which you are staying, while touring holidays will provide you with a personal tour manager, who will take you to the top highlights of the country or continent. Over the course of one escorted tour you could take in the top must-see sights of India, China or South America. You could find yourself travelling through the Canadian Rockies, or taking in the Great Barrier Reef, Ayers rock and the Sydney Opera house.
If Europe is where you'll be for your meeting and youd like to experience a multitude of smaller countries, you could consider a river cruise. We work closely with many different river cruise operators, who provide a number of different routes. Among the most popular waterways to explore are those that take you through France, Germany, Hungary, Austria and Portugal.
Aspen Travel business department
Searching for the best deal business travel tickets can be pointless if you don't have valued booking partners, with whom you can negotiate a great price. Our Aspen Travel business team will search for the ideal transport tickets to suit your budget and preferences.
We use cutting edge travel booking technology so that we can get your tickets to you fast and ensure that you remain flexible in your travel options, without having to pay more for the privilege. If you miss your connection, you'll have your own personal travel advisor on hand here to help you get on the next best journey to your destination. When something unforeseen disrupts your travel, we worry about it, so you don't have to.
To find out more about our Aspen Travel bleisure trips, or our separate business and leisure packages, please simply give us a call. Well be able to recommend resorts suitable for your planned destination, or destinations for your holiday travel. We look forward to hearing from you.