Hidden Treasures of New Zealand
| | |
| --- | --- |
| Resort: | Hidden Treasures of New Zealand |
| Operator: | Wendy Wu Tours |
| Destination: | New Zealand |
| Price From: | £6990.00 |
Explore New Zealand's lovely hidden treasures on one of our exciting new tours. Kicking off in our capital city with Weta Studios and Zealandia Ecosanctuary, we head north by luxury coach, visiting the beautiful vistas of Taranaki and the volcanic plateau. We'll ride the brand new Sky Waka, NZ's highest gondola, before popping into Napier for an Art Deco tour and some local winetasting. Hamilton Garden's award-winning themed gardens are on the list, finishing in Auckland with an Asian cooking lesson. We'll fly down to Dunedin to start our southern odyssey that includes Otago wildlife, a cruise on the Sounds, charming Arrowtown, a stargazing experience at Mt Cook and dolphin spotting at Akaroa. Everything's included transport, accommodation, meals and a fun sociable group of like-minded travellers, all keen to experience the scenic beauty of New Zealand!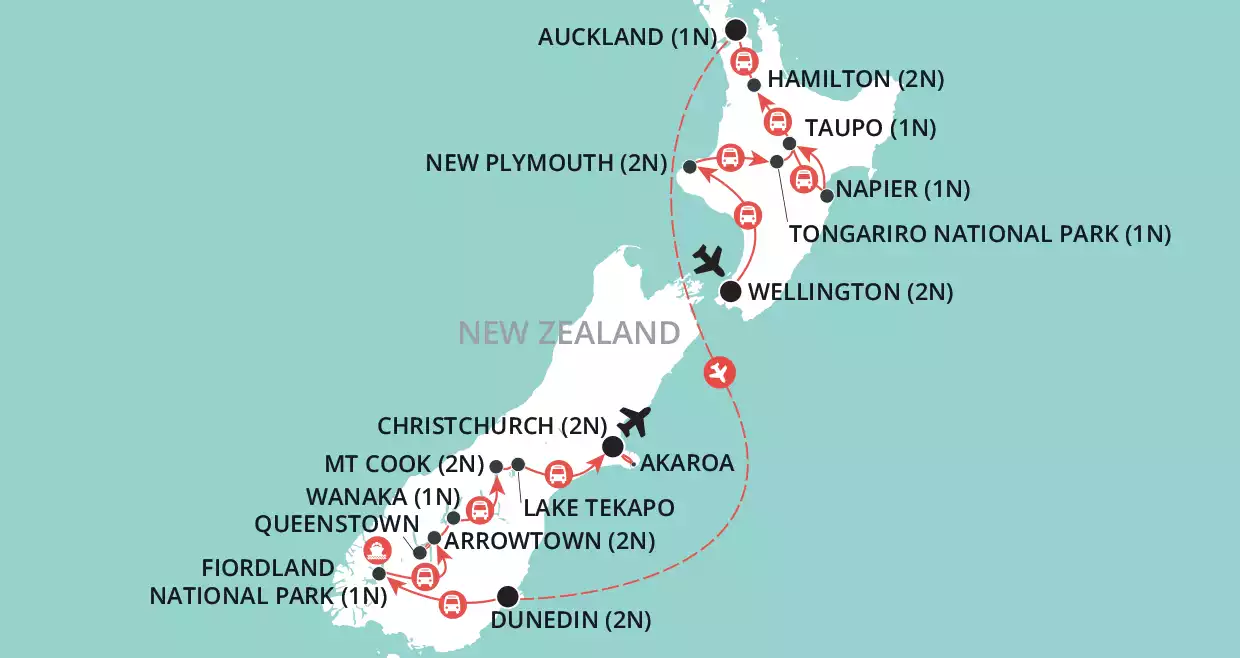 ---
Full Itinerary
Day 1-3 Fly to Wellington
On arrival on Day 3, transfer to your hotel. After a welcome briefing, take a stroll to Courtney Place for a welcome dinner in the dining and entertainment hub of Wellington.
Day 4 Wellington Weta Workshop & Zealandia Ecosanctuary
After breakfast head to Weta Workshop, the award-winning design studio that has created special effects for many blockbuster movies such as Lord of the Rings and Avatar. Our private tour will unlock some of the movie magic! Afterwards it's a short drive to the tranquil urban forests of Zealandia Ecosanctuary for lunch and some time to enjoy a scenic walk. The Ecosanctuary is home to a huge variety of native birds and you may even spot a tuatara in the wild! Dinner tonight will include a chance to taste some famous Wellington microbrewery beers.
Day 5Wellington to New Plymouth Foxton Windmill & Tawhiti Museum
Leaving Wellington, travel north along the west coast, stopping for a tour of the iconic Foxton Windmill, a full-size replica traditional 17th century Dutch flour mill. Our next stop will be the amazing Tawhiti Museum, widely acclaimed as the best private museum in the country. The creation of artist Nigel Ogle, the museum uses life size exhibits and minutely-detailed historical dioramas to present our heritage in a series of engaging displays. Enjoy lunch in the museum's Wind in the Willows-themed caf and a tour of the museum. Later this afternoon, arrive at our accommodation in New Plymouth with time for a stroll along the impressive waterfront before dinner.
Day 6 New Plymouth Pukeiti Rhododendron Gardens & Len Lye Gallery
After breakfast this morning, take an optional bike ride along the beautiful coastal cycleway to Te Rewa Bridge to meet our coach. If you do not cycle, you can opt for a scenic waterfront walk at the Bridge, a New Plymouth landmark that is reminiscent of a whale skeleton or a breaking wave. Drive to the famous Pukeiti Gardens at the foot of Mt Taranaki, for lunch in the Founders Caf and a tour of the rhododendrons and exotics garden. This afternoon, drive back to New Plymouth to visit the architecturally-stunning Govett-Brewster Gallery, that celebrates the extraordinary work of Len Lye, modernist filmmaker and kinetic artist.
Day 7 New Plymouth to Tongariro National Park
Relax and enjoy a scenic drive through some of the most untouched parts of New Zealand. Our first stop will be for a unique lunch and alpaca experience at Nevelea Alpacas, nestled in the hills of the King Country on the adventure highway. Afterwards continue our scenic drive, with stops at Raurimu Spiral and Taumarunui, to the mountains at the heart of Tongariro National Park. Tonight, we will stay and dine close to the mountains.
Day 8 Tongariro National Park to Taupo
This morning is at leisure before we head up the mountain for lunch. Well ascend Mt Ruapehu on the new Sky Waka, New Zealands largest gondola, enjoying the panoramic views of our three volcanoes. Lunch will be at the Knoll Ridge Chalet, New Zealands highest dining experience. This afternoon head to the National Trout Centre, a fascinating museum, aquarium and hatchery near Turangi. Dinner tonight will be in Taupo.
Day 9 Napier Art Deco Tour & Vineyard Dinner
After breakfast take a scenic drive to Napier to enjoy an Art Deco Highlights Vintage Car Tour. Head to Havelock North for lunch at the picturesque Birdwoods Gallery with time to stroll their sculpture garden and enjoy a browse through their unique store. After checking into your hotel this afternoon, there will be time for a stroll around the pretty town of Havelock North. Dinner tonight will be at a stunning local winery.
Day 10 Napier Hamilton Huka Falls & Orakei Korako Geothermal Park
This morning, after a scenic drive back to Taupo, take a walk along the magnificent Huka Falls, before heading to one of the best thermal reserves in New Zealand, Orakei Korako. Lunch will be at their lakefront caf, followed by a short boat ride across the lake to explore the thermal park. This afternoon drive to Hamilton for our two night stay.
Day 11 Waikato: Hamilton Gardens & Hobbiton
Explore the wonderful themed gardens at the award-winning Hamilton Gardens, including their recently completed surrealist garden. Lunch will be at New Zealand's premier tea plantation, Zealong Tea Estate in their luxuriously appointed restaurant. This afternoon will visit the 'enchanting village of Hobbiton' one of the locations used in the Lord of the Rings trilogy. Dinner tonight is back in Hamilton.
Day 12 Auckland: Fo Guang Temple & Cooking Lesson
Our last day of touring takes us up to Auckland, where we will stop at the tranquil Fo Guang Shan Buddhist Temple, located in Flat Bush. Designed in the architectural style of the Tang Dynasty, the temple is one of Auckland's hidden gems. Head over to Half Moon Bay marina for lunch before we board our ferry to Auckland. After checking into our Auckland hotel, this evening enjoy a farewell dinner that we will all be cooking at Sachie's Kitchen, famous for their award-winning Asian cooking classes.
Day 13 Auckland to Dunedin
After breakfast, you will have the morning at leisure. After lunch, transfer to airport for your flight to Dunedin. On arrival transfer to your hotel, followed by a welcome briefing and dinner at the iconic Larnach Castle.
Day 14 Dunedin: Otago Peninsula
This morning take a scenic drive along the Otago Peninsula to 'Penguin Place' to view the endangered yellow-eyed penguins, both in the rehabilitation facility and in the reserve itself. Drive to St Clair Beach for lunch at The Esplanade on the waterfront. After lunch return to Dunedin's centre for some free time to explore the iconic train station, numerous museums or perhaps some shopping. Later this afternoon enjoy a guided garden tour of the Chinese Public Gardens followed by dinner in their lovely themed surrounds.
Day 15 Dunedin Fiordland National Park
Rise early to drive to Manapouri, stopping briefly in Gore along the way. After grabbing our pre-ordered picnic lunches, begin our adventure in Fiordland National Park by crossing the waters of Lake Manapouri. A coach will take us up and over the Wilmot Pass to Deep Cove where we'll board our overnight vessel, The Navigator. In the afternoon, there are plenty of water activities, as well as wildlife sightings, to keep us busy. In the evening, a 3-course buffet dinner will be a served onboard.
Day 16 Fiordland National Park – Arrowtown
After breakfast, enjoy the rest of the morning exploring other parts of the fiord before returning to Deep Cove, and arriving back at Manapouri late morning. We drive to the delightful village of Arrowtown for lunch at the Five Rivers Caf & Art Gallery, before checking in at our accommodation at the luxury Millbrook Resort. This evening well enjoy an Asian-fusion dinner in Arrowtown.
Day 17 Arrowtown: Skippers Canyon & Queenstown
This morning take an exciting 4WD safari tour through Skippers Canyon, visiting the famous suspension bridge, the original Skippers Township and a chance to try your luck panning for gold! Lunch will be at Provisions of Arrowtown, a pretty caf set in an historic miner's cottage, and then there's some free time to relax or explore Arrowtown's quaint shops and scenic walking trails. This evening drive to Queenstown for a stroll along the stunning waterfront, and enjoy an Asian-fusion style dinner at Blue Kanu, before returning to Arrowtown for the night.
Day 18 Arrowtown – Bannockburn – Wanaka
Take a fascinating guided tour of Lakes District Museum & Chinese Settlement in Arrowtown, before driving to Bannockburn for lunch and wine tasting at stunning Mt Difficulty Vineyard. After a further wine tasting visit to Felton Road Winery, continue driving to Lake Wanaka in time for dinner at Little India.
Day 19 Wanaka Mount Cook
This morning visit Warbirds & Wheels Museum with lunch at their retro 50s Diner. After lunch drive to Mount Cook with a brief stop en route in Omarama. Check in to the famous Hermitage Hotel and enjoy dinner in their Panorama Room restaurant, with stunning views of the mountains. After dinner join the Big Sky Stargazing Experience to view the wonders above.
Day 20 Mount Cook: Glacier Tour & Sir Edmund Hillary Alpine Centre
Join the Glacier Explorers tour to Mt Cook terminal lake – a lovely half hour alpine walk through the National Park plus a short boat ride amongst icebergs of all shapes and sizes, to view the glacier ice face. Enjoy lunch at the Old Mountaineer's Caf which enjoys stunning views of Mt Cook. After lunch visit the Sir Edmund Hillary Alpine Centre, Museum and Digital Dome Planetarium. Dinner will be in the Panorama Room at the Hermitage.
Day 21 Mt Cook – Lake Tekapo – Christchurch
Drive to Lake Tekapo for a stop at the iconic Church of the Good Shepherd and a visit to Tekapo Springs Hot Pools for a relaxing soak (towels will be provided). Lunch will be at the stunning Rakinui Restaurant at Peppers Bluewater Resort, overlooking Lake Tekapo. This afternoon enjoy the scenic drive to Christchurch, our final destination, for a short post-earthquake city tour. Dinner will be around the teppan-yaki table at Yamagen Japanese Restaurant.
Day 22 Christchurch Akaroa Christchurch
Drive to pretty Akaroa, stopping at Little River Caf & Gallery on the way. At Akaroa, join a harbour tour (choose from 3hr Swimming with Dolphins or 2hr Dolphin & Nature Cruise). Enjoy lunch and a tour at The Giant's House, with its quirky mosaic gardens, before returning to Christchurch via a delicious stop at the Barry Bay Cheese Factory. Dinner this evening will be at Asian-fusion restaurant, King of Snake.
Day 23 Depart Christchurch
After breakfast, your tour ends. Transfer to Christchurch Airport for onward flights.