Jersey – The Jewel of the Channel Islands
| | |
| --- | --- |
| Resort: | Jersey - The Jewel of the Channel Islands |
| Operator: | Riviera Travel |
| Destination: | Europe |
| Price From: | £779.00 |
With its rolling hills, coastal coves and poignant past, experience Jersey from all angles. From our base in charming St. Helier, experience this gem of the Channel Islands on a scenic drive of the east, a boat cruise along the west coast, plus visits to the picturesque Samares Manor, historic Jersey War Tunnels, imposing Elizabeth Castle and award-winning La Mare estate.
A unique location, Jersey brings together a varied landscape of sleepy villages and lush green hills to golden bays and characterful marinas in such a small area. Even though Jersey is the biggest of the Channel Islands, its still only 5 miles long and 9 miles wide, and although part of the British Isles geographically, Jersey is not actually part of the UK. The island is an independently governed Crown Dependency, with its own banknotes and coins. This distinct character shines through on our tour, where we learn how the history, politics, terrain, and location shaped the Jersey we see today. From its wartime history and heartfelt stories to exotic plants that grow in its soil, along with some of the most beautiful beaches and coastal views of the British Isles, Jersey truly makes for an insightful and inspiring visit.
---
Experience more with so much included…
Change your booking free up to 45 days before travel
Covid Cancellation protection included as standard
Discover the west side of Jersey, plus a visit to Elizabeth Castle
Explore Samares Manor with a guided tour of the house, Herb Garden & Museum with time to explore the celebrated Botanic gardens
Take a boat trip to explore the eastern coast by sea and spot the wildlife
Understand the poignant WW2 history on a visit to the Jersey War Tunnels
Visit the renowned La Mare Estate with a tour and tasting
Enjoy a traditional afternoon tea
---
At a glance…
NEW TOUR FOR 2021
5 nights in 4-star accommodation
Selected departures May to September 2021
Programme of daily tours & visits
Daily breakfast & 2 dinners
Deposit: £100 per person
---
Full Itinerary
Day 1 – Arrival in St Helier
Make your way to your four-star hotel in St. Helier, the Pomme d'Or, perfectly located in the centre, overlooking Liberation Square and the marina. Hand-picked by us with a combination of location, facilities and service in mind, the hotel is just 20 minutes from the airport, for your convenience.
After checking in this afternoon to your historic hotel with all the modern amenities, theres plenty of time to relax or explore as you wish. You can also use the sister hotels facilities, so why not unwind this evening with a dip in the pool or relax in the steam room? Or you could start exploring this superb area with a stroll along the marina, nearby Waterfront Gardens or the many shops, cafes and restaurants along the Esplanade.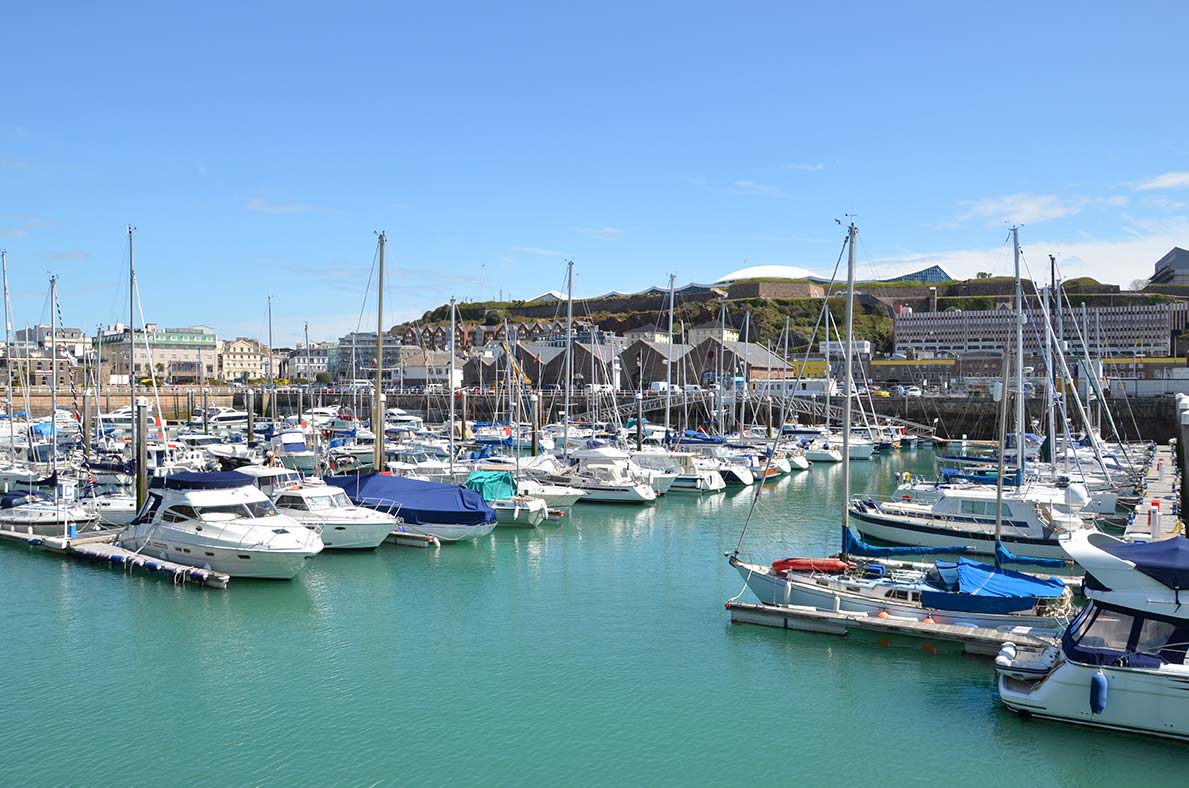 ---
Day 2 – Western Jersey
After the first of our delicious daily breakfasts at the hotel, we uncover authentic Jersey on a tour of the west side. A scenic drive takes us first to Noirmont Point, where the old German bunkers and vantage points offer breathtaking views, before heading to the golden sands of St. Bredlades Bay, often hailed as one of the best beaches in the British Isles, and then to the equally beautiful Greve de Lecq and St. Ouens Bay, with clear water, waves and tides that make for a popular surfing spot. This wouldnt be a trip to Jersey without a visit to the famous Corbiere lighthouse and Elizabeth Castle, and so these are included on this fascinating tour, taking the ferry to the castle. Named after Queen Elizabeth I, the stronghold is simply a must-see, with a long and intriguing history and unrivalled vistas, as well as tunnels, bunkers and turrets to explore. This evening we return to the hotel to enjoy the first of two included dinners.
---
Day 3 – Samares Manor
Today we visit beautiful Samares Manor and botanical gardens. A knowledgeable local guide will bring history to life as we uncover the Medieval origins of the manor and its place today, home to Seigneur de Samares for centuries. Amongst our vibrant surroundings, we will also delve deeper into its colourful past with a guided tour of the manor house and Museum of Rural Life before a wander to the herb garden. The herb gardens are full of medicinal plants, roses and lavender, with a viewing platform to fully appreciate the elegant and calming surroundings. After the tour, there is time to explore the renowned botanical gardens, unique because the land is exceptionally fertile with exotic plants that wouldnt normally grow in the British Isles climate. Designed in the roaring 1920s, youll spy heritage blooms dancing amongst the rows of plants, as well as a bee garden and fragrant herbs, a relaxing end to the afternoon.
---
Day 4 – Eastern Jersey and Boat Cruise
Today, we continue to learn more about what makes Jersey so special as we see the island from a different angle. Hopping onto our boat cruise at Albert Quay, we journey along the eastern coastline with commentary from a local expert. As we witness incredible views from our boat, the Jersey Duchess, our minds are cast back to what it would have been like to see beautiful Jersey for the first time in this way, long before air travel. Jersey is particularly famous for its marine life too so if you are lucky you might spot bottlenosed solphins, seals or even basking sharks. This afternoon, explore our base in St. Helier further with some free time. So whats it to be? Perhaps learn more about this historic islands navy past with a visit to the Maritime Museum or soak up the culture of the Jersey Museum and Art Gallery. Foodies will enjoy a trip to the Central Market, whilst those who love to shop independent will be sure to relish in the quaint boutiques. Or perhaps just simply watch the world go by with views from one of the Marinas before heading back to get ready for dinner this evening.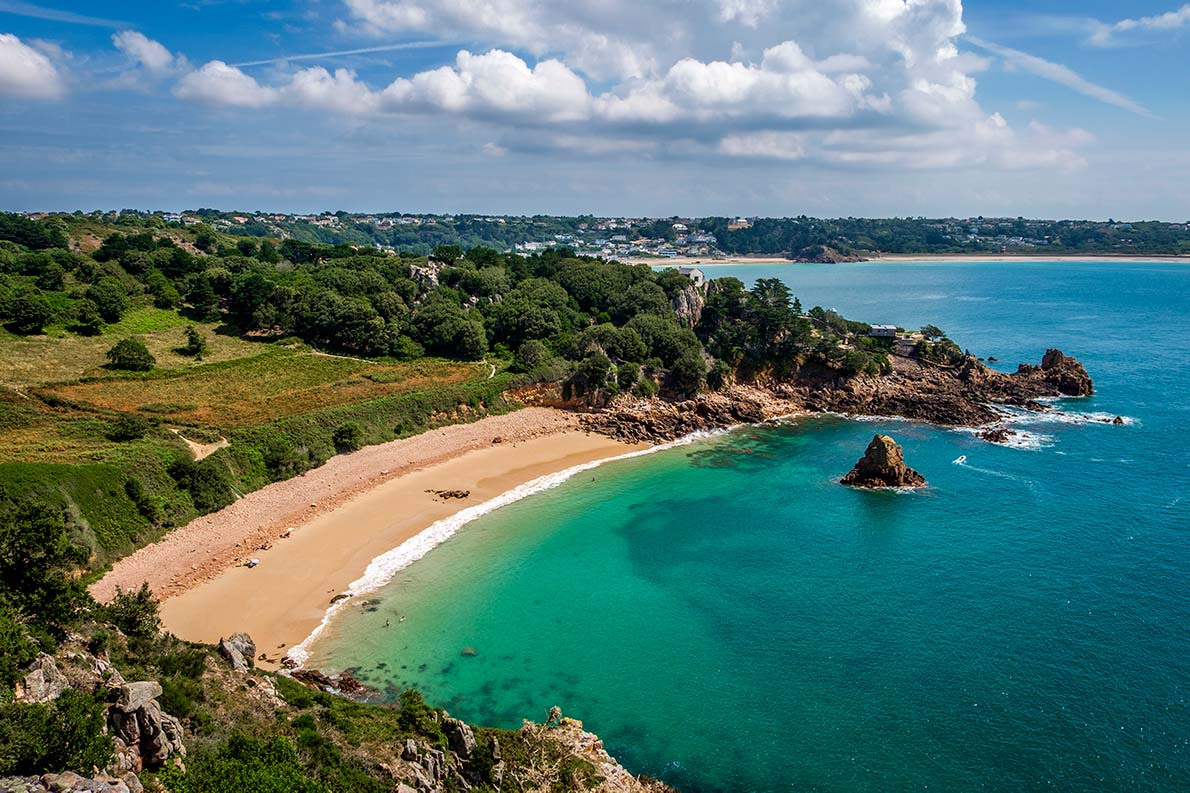 ---
Day 5 – Jersey War Tunnels, La Mare Estate & Afternoon Tea
Most people know that Jersey was occupied by the Germans during WW2. At first with a relatively moderate approach, but as the war continued, conditions for locals got harder and harder, with forced labour and mass deportations and during the winter of 1944-1945, and near starvation for most of the population. It was a poignant time in Jerseys history and a period we feel is important to understand. We visit the Jersey war tunnels, dug by enforced labour under harsh conditions, which tell the story of life during the German occupation: the heartache, resistance, hardship, heroism and eventual liberation. After a moving morning, this afternoon we experience a different part of Jerseys culture On our visit to La Mare wine estate, distillery, and cider farm. The estate is celebrated for the quality of its products, including the renowned Black Butter preserve, used by many esteemed chefs, as well as its wines, cider, and liqueurs. We will explore the estate with a guided tour and tasting as we learn about the ethos behind La Mare and how the estate makes things a little differently on this small island. After our tours which includes a not to be missed visit to the chocolate kitchen, we will settle down for afternoon tea no doubt featuring famed Jersey milk and cream. After a deliciously delightful afternoon, we will have time for a stroll in the gardens and vineyards before heading back.
---
Day 6 – Return Home
After breakfast, we return home with fond memories of this small but fascinatingly beautiful part of the world.