Neilson's La Pared
| | |
| --- | --- |
| Resort: | Fuerteventura |
| Operator: | Neilson Holidays |
| Destination: | Canary Islands |
| Price From: | £169.00 |
Overview
The latest addition to Neilson's range of beachclubs, La Pared is Neilson's first winter sun destination on the Spanish island of Fuerteventura. Enjoying a secluded and tranquil location, La Pared sits above dramatic sea cliffs overlooking the wild and beautiful landscape. The constant sunshine, turquoise waters, beautiful sandy beaches and reliable winds make it the perfect activity holiday playground.
The Neilson activity team are on hand to deliver the cycling, tennis and fitness programme, whilst their partners Powered by Playitas run the hotel and hospitality side.
Windsurfing, surfing and kitesurfing will be available to book locally for a supplement. Well be relying on the knowledge and expertise of specially selected local schools to get the best from these activities. This allows us to react to changing conditions, travelling to the best beaches on any given day. Our local beach, also called La Pared, is a great place to learn tosurfand the surf school is based here.
Back on shore, with two tennis courts, a fleet of carbon road bikes, mountain bikes and a large choice of daily fitness and yoga classes, you can expect the usual high standard of inclusive coaching and guiding from the Neilson teams.
Flights and transfers arent included, giving you the convenience of flying from your preferred airport. Theres no set arrival day and our team can book you a transfer to La Pared, but we would recommend a hire car as the best way to get around and explore.
What's Included in your package
– Hotel accommodation

– Breakfast every day (half board or full board available for a supplement)

– Fitness classes

– Yoga and stretch classes

– Spin classes

– Well equipped gym

– Mountain biking with guiding

– Road cycling with guiding

– Tennis with coaching
Why you will love this holiday
– Winter sunshine

– Dramatic clifftop location

– The place to go for wind and waves

– Far from the crowds of Fuerteventura's holiday hotspots

– Some of the best windsurfing in Europe with flat water and waves

– A stone's throw from a sandy surfing beach

– Cyclists will enjoy the smooth roads, ocean views and interesting terrain

– The laid-back atmosphere makes it a great place to relax and recharge
Activities on the water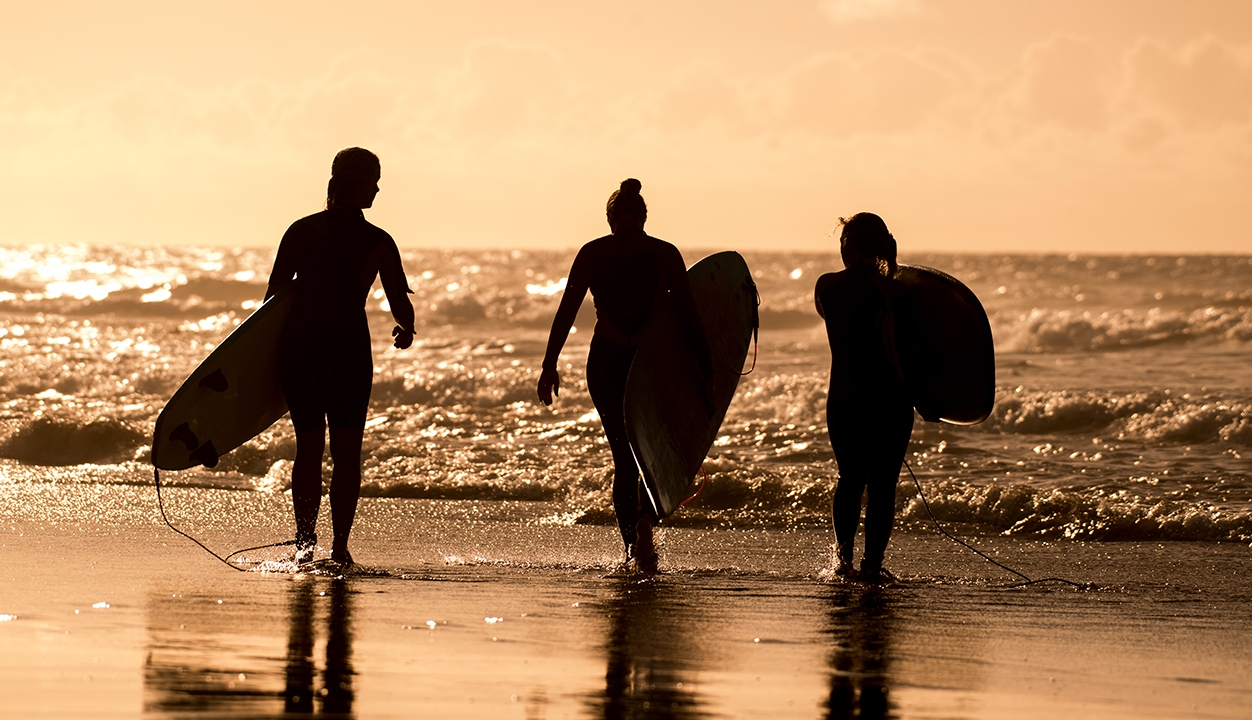 Fuerteventura is known as the Hawaii of Europe in part because of its many surf spots with plenty of waves for all abilities. The beach at La Pared is great for both beginner and intermediate surfers. Just 400 meters from the beachclub, the long waves break gently over the sandbanks making the beach good for beginners. When the swell gets up, its best for intermediate and advanced surfers with offshore winds common in the mornings.
Surf lessons are available as a supplement and include all equipment. Lessonsrun over 4 hours per day and are available to pre-book for one day (£45 per person), three days (£120 per person) or five days (£180 per person).Wellenkind, our onsite surf schoolprovide the lessons, youmay also travel to other beaches depending on the waves, tides and prevailing conditions.
Experienced surfers may rent a board from the surf school but must first complete a one-day refresher course. You won't be able to rent the kit until you have successfully attended the refresher course. If you have your own board we recommend you bring it with you.
Windsurfing and kitesurfing
If you want to windsurf or kitesurf we recommend heading to the Costa Calma area of the Jandia peninsula (just ten minutes drive) an area renowned for its amazing white sand beaches, flat water and strong, consistent winds. Its the perfect spot for freestyle, freeride, slalom and speed windsurfing and kitesurfing.
The credentials are impressive, every year the bay hosts the Canarian Speed Championships and the official European ISWC Speed Championships so if you want to blast on flat water, this is surely the place to be!
Wind and weather conditions
The Canaries get their fair share of strong winds and Fuerteventura is no exception. The coast is a surfer's paradise year-round, with the Atlantic providing consistent swells through the winter months. On average during the winter, the wind speed ranges between force 2-4.
Lying so close to Morocco and the Sahara, Fuerteventura is almost always warm, with sunshine most days. The daytime temperatures during the winter months tend to average around 22-25 degrees, while the evenings can be quite cool.
Activities on the shore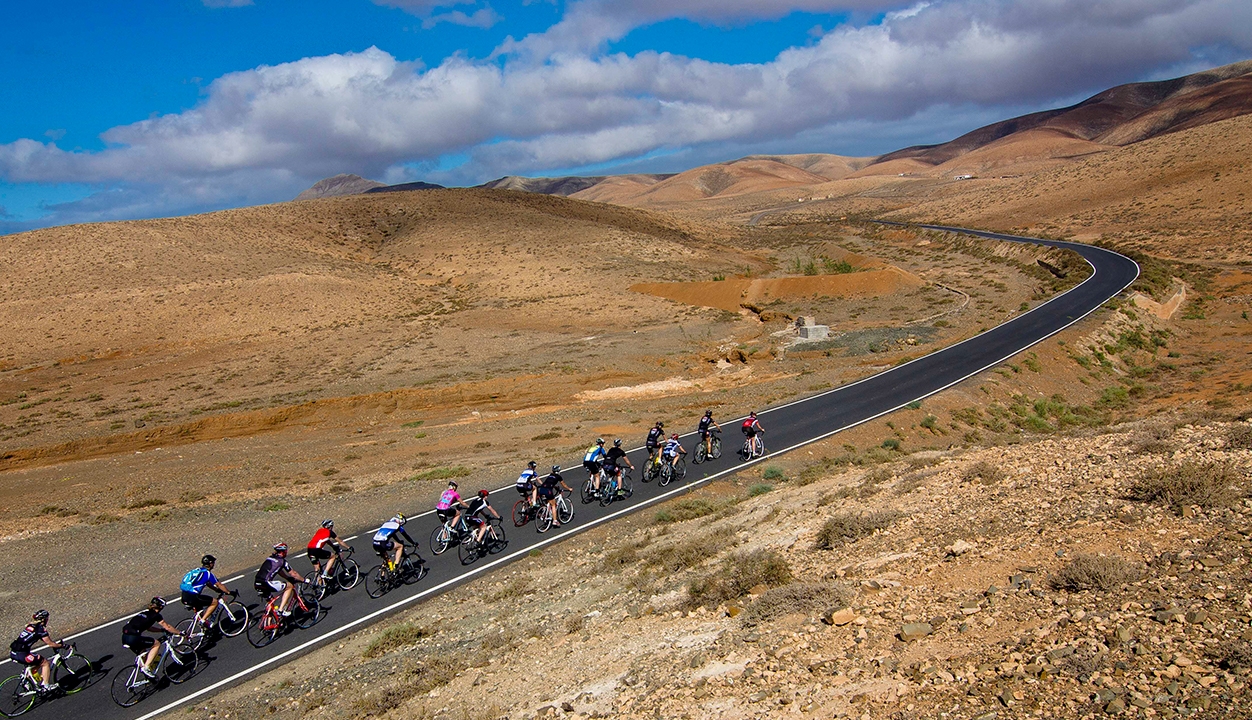 Cycling
Smooth roads, ocean views and varied off-road terrain make Fuerteventura a great location for a cycling holiday! You can ride through picturesque coastal towns, historic villages, small farmsteads, vast plains, lunar-type landscapes and undulating hillsides, nearly always with glimpses of the sparkling Atlantic Ocean. Fuerteventura is also blessed with a pleasant and stable climate. Mild winters and low rainfall make it the perfect location for cycling.
Away from the tourist trail, the roads are well maintained with minimal traffic so road cyclists can make the most of the island. Jump on one of our guided mountain bike rides and youll get to experience and see close up the breath-taking volcanic trails that form vast swathes of the island. There are plenty of exciting routes just outside of La Pared for both beginners and pros.
Tennis
At La Pared we have two AstroTurf tennis courts with inclusive coaching. The programme runs daily with free group sessions run by our expert team. The sessions are grouped by ability, so you will be able to play and practice with others of a similar level. You can head to the courts at any time during the day when coaching isnt taking place for free play and youll also be able to join in with social tennis sessions organised by the coaches. Theres also a multi-sports court.
We provide a selection of adult and child rackets from Babolat.
Fitness and swimming
We have everything you need at La Pared for your fitness and functional training. The temperatures are just right for training outdoors with cooling sea breezes and warm sunshine. You can expect well-equipped training facilities and a full programme of spin, running, hiking, Tabata, stretch, aqua, HIIT, circuits and functional training plus a variety of yoga classes including Ashtanga, Hatha and Yin from the fitness coach and yoga instructors. Theres also an air-conditioned gym, with static weight machines, free weights and cardio equipment.
Classes take place on the multi courts, spin court or yoga Shala; from all, youll be able to take in views of the rolling Atlantic waves and volcanic hillsides surrounding the beachclub. As always, all classes are included so its a great chance to up your fitness or to try something new! Theres also a centrally located swimming pool for a cooling dip after training and an outdoor jacuzzi.
Rest and relaxation
To truly unwind head to the free sauna and heated outdoor Jacuzzi both are great to relax and recover after a day on the courts, bikes or water. There is also a treatment room where you can book a massage or physiotherapy session. All sessions are booked and paid for locally.
Food and drink
We include a daily breakfast of pastries, cereals, yoghurt and honey, cold meats, eggs, pancakes, fruit and freshly squeezed juices to set you up for the day. Half board is available for a supplement of £12 per adult per night and includes breakfast and evening meal. Full board including breakfast, lunch and evening meal is available for a supplement of £23.50 per adult per night.
For your non-inclusive meals, there is a local restaurant overlooking the lovely bay of La Bahia where you can enjoy freshly caught fish whilst watching the sunset. La Pared village has a few cafes and a small bar serving snacks and drinks. If you would rather stay at the resort the poolside bar and restaurant also serves evening meals.
Rooms
The spacious, modest rooms are in a style typical to the local area and simply furnished. They are located around the central pool area with balcony or terrace and sea, pool or garden views.
Our Club rooms have double or twin beds, suites have two rooms spread across two floors with a total of 4 single beds (two of which can be made up as a double on request). They also have a separate lounge area. One and two-bedroom apartments have double or twin beds and a separate lounge area with a small kitchenette.
All rooms have a shower over bath (rooms for those with limited mobility have a wet room only), fridge, TV, safe (small charge) and hairdryer. There's free Wi-Fi in the public areas and most of the rooms. Beach towels can be requested from reception (20 refundable deposit, 1.50 for a fresh towel).
Late check out can be requested from La Pared reception one day before your departure date (25 until 2 pm or 40 until 6 pm).
Families and kids
Children aged 5 years and above can have a go at surfing on the sandy beach below La Pared. Those aged between 5 and 11 must be with a parent or guardian to enjoy the surf lessons. We will be providing equipment suitable for children aged eight and over so that they can join you on the tennis courts and bikes; while children aged 14 and over can join the adult teaching sessions. Its a great option for families with older, sporty kids, as at the moment we wont be offering our usual kids clubs, lunchtime and evening care.
Local area
Fuerteventura is the second largest of the Canary Islands and sits just 100km from the coast of Morocco and is home to over 150 golden, sandy beaches. UNESCO declared the island and its marine habitat a Biosphere reserve in 2009.
Our resort of La Pared is situated on the western side of the Jandia Peninsula in the south of Fuerteventura. The peninsula of Jandia was originally a separate island, the strait that separated the islands filled up many hundreds of years ago to form the Isthmus of La Pared (Isthmus meaning a narrow strip of land with sea on either side). This narrow strip of land is just 5km across and is the narrowest point on the island and separates the dramatic landscape of La Pared from the more touristy Costa Calma.
Fuerteventura is a fascinating and beautiful island, with so much more going for it than the beaches (although the beaches are pretty special).