Sri Lanka plus Maldives Cruise Extension
| | |
| --- | --- |
| Resort: | Sri Lanka plus Maldives Cruise Extension |
| Operator: | Riviera Travel |
| Destination: | Indian Ocean |
| Price From: | £3049.00 |
As soon as you arrive, your senses are overwhelmed by Sri Lanka! The warm tropical air, the colourful wildflowers and the jungle, the striking colours of the saris adorning every woman, the variety of exotic fruits and spices, the beauty of the countryside, the mystique of countless temples and orange-clad Buddhist monks and wild elephants this is a varied place indeed! Marco Polo, arguably the greatest explorer of all time, described it simply as the finest island in the world!
Embark on a unique and unforgettable seven-night cruise exploring the best of the Maldives, one of the lowest countries in the world with an average of 1.5 metres above sea level. The best way to explore and travel through this island nation is by boat. So kick off your shoes, forget the news, relax, rejuvenate and enjoy the welcoming hospitality of this unique island nation. What makes these numerous tiny islands so special is that theyre actually the crowns of coral reefs and submerged volcanic mountains in fact, just 1% of the Maldives is land-based. Only 200 of these are inhabited, which means there are many idyllic desert islands awaiting your fresh footprints on their unblemished shores.With a daily average of 8 hours sunshine and water temperatures barely falling below 25C, the Indian Ocean is your swimming pool for the week.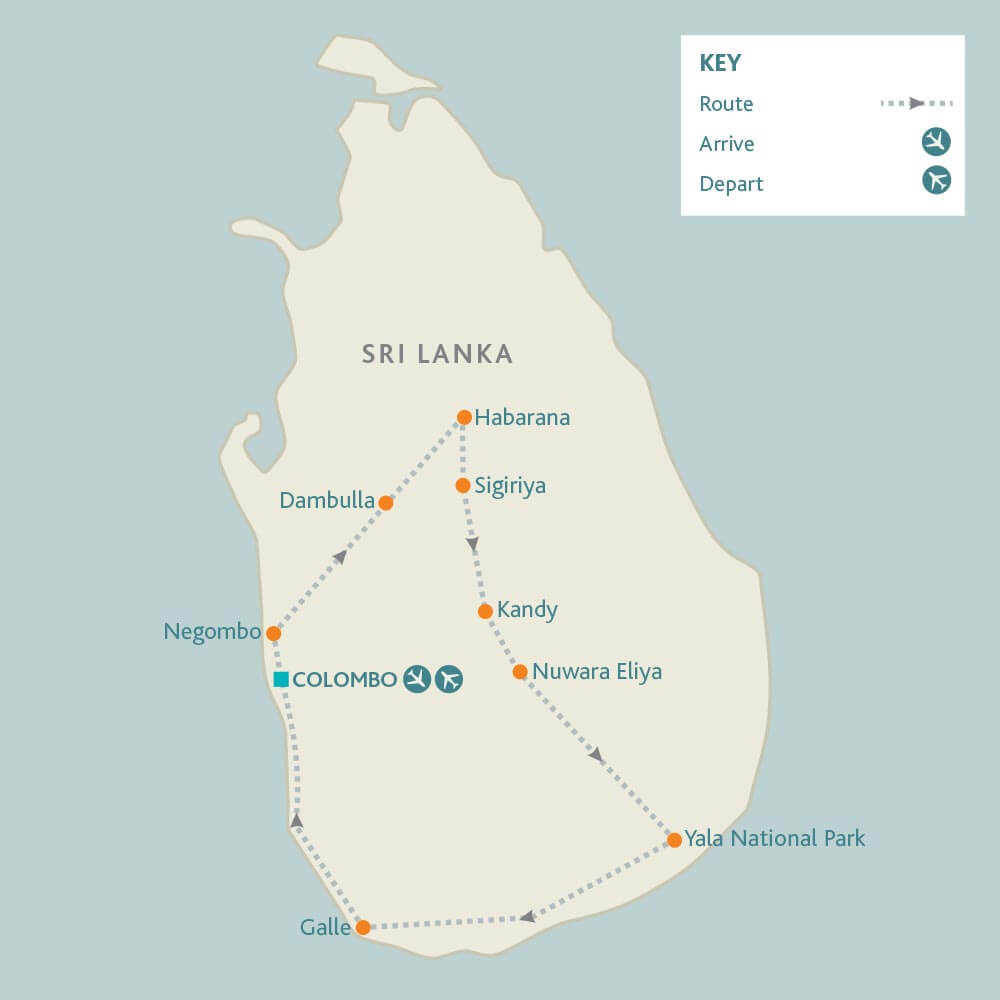 ---
Full Itinerary
Day 1
DEPARTURE
You should arrive at the airport to take your flight to Colombo.
Please note that this itinerary will be operating on the following departure dates:
23/10/2020
26/02/2021
12/03/2021
Day 2
ARRIVAL IN COLOMBO
After your lunchtime arrival we stay for one night at the four-star Arie Lagoon Hotel.
Day 3
DAMBULLA & HABARANA
Today the adventure begins and the sights and the sounds of Sri Lanka gradually unfold. The countryside is stunning scenic paddy fields studded by water buffalos accompanied by wiry, loin-clothed farmers, extensive coconut groves, pineapple fields, working elephants with attentive mahouts astride their necks and everywhere the dense jungle interspersed by huge lakes.
We visit the amazing, 1st century cave temples of Dambulla, a UNESCOWorld Heritage site and a wonderful introduction to the Buddhist religion. Set in an immense granite outcrop and reached by a number of steps, this serie of five caves are richly adorned with remarkably preserved frescoes and over 150 Buddhist statues. In the caves semi-darkness, surrounded by the serene faces of dozens of beautifully painted statues, its not difficult to imagine the incredible sense of awe this sacred site held for generations of worshippers.
We stay two nights at thefour-star Habarana Village Hotel by Cinnamon.
Day 4
SIGIRIYA ROCK
This morning you visit what for many will surely be the most memorable and fascinating monument in Sri Lanka: Sigiriya, or the Lion Rock, is a massive 600ft granite tower with sheer cliffs on all sides crowned by the remains of a 1,500 year old royal palace. The entire site is encircled by a moat and ramparts enclosing a variety of water gardens, the remains of numerous buildings and caves. As you approach Sigiriya rock, you see some of the finest ancient murals in the country the cloud maidens are found under a fold of rock and show in exquisite detail a procession of jewelled, beautifully dressed women bearing offerings of lilies and lotus flowers. Facing us is the imposing final entrance to the palace above: in ancient times the colossal head of a lion (hence Lion Rock) was built in brick and plaster, visitors entering through its mouth. Today, just the two front paws remain, their claws menacingly extended, still guarding the palace. It should be noted that there are numerous steps to the top of Sigiriya rock, but should pose no problem for those with normal mobility. The rest of the afternoon is at leisure to enjoy our hotels pool and facilities.
Day 5
KANDY
This morning we leave Sigiriya for Kandy. Sri Lanka is noted for its magnificent spices so en route we visit a fascinating garden where we see many indigenous plants such as pepper, nutmeg and cinnamon before arriving at Kandy, the countrys royal capital.
You stay two nights with dinner at the four-star Cinnamon Citadel Hotel, beautifully located overlooking the scenic Mahaweli River and surrounded by peaceful forested hillsides. The hotel as a pool overlooking the river, with a colonnaded lobby, a charming bar and restaurant.
Kandy is famous for its traditional dancing and so this evening we experience a colourful and hugely skilful display of this ancient art.
Day 6
KANDY
Kandys crowded and bustling streets teem with daily comings and goings: the many white-uniformed children returning from school and the myriad of shops. The centre is dominated by a beautiful lake and the fascinating Temple of the Tooth, said to hold Buddhas tooth. This is Buddhisms most sacred shrine on the island and during our visit (today or tomorrow morning), you may be lucky enough to witness one of the many ceremonies. You also visit the stunning Royal Botanical Gardens. Planted over 150 years and covering a huge 150 acres, the gardens hold thousands of plant species and some superb examples of mature tropical trees. Strolling through lawns, shady avenues and immaculately kept flower beds, we see exotic birds and the commemorative trees planted by Edward VII, George VI, Princess Anne and the Queen.
Other highlights are the Avenue of Royal Palms and Bat Drive where you can spot the large fruit-eating Flying Foxes hanging upside down! The gardens also house Lord Mountbattens imposing HQ from World War II.
Day 7
TEA ESTATES
Today we leave Kandy driving throughincreasingly mountainous scenery to Sri Lankas premier tea-growing areas. Winding ever upwards, the lush tropical jungle gives way to tall pine forests and then box-like tea bushes begin few at first and then seemingly covering every fold of the landscape like a huge green carpet. You visit one of the best-known tea estates to see how our favourite drink is rolled, dried and graded, followed by a refreshing cup of Ceylons finest. Nuwara Eliya, the main hill station, is nearly 7,000 feet above sea level and called Little England due to its spring-like climate, parks and golf course.
You stay at the four-star Golden Ridge Hotel for one night.
Day 8
ELEPHANT TRANSIT HOME & YALA
You say goodbye to Sri Lankas hill country this morning on your way to Yala National Park in the south of Sri Lanka. At around midday we arrive at the Elephant Transit Home, supported by the UKs Born Free Foundation, at Udawalawe National Park, where youll be able to watch young elephant orphans being given one of their daily feeds.
You stay two nights at the excellent three-star superior Chaarya Resort & Spa Hotel, near Tissamaharama.
Day 9
YALA NATIONAL PARK
An early start this morning, accompanied by the unique sound of a tropical dawn chorus. As the morning mist disappears with the rising sun you explore the jungle and its incredible range of wildlife in 4×4 vehicles. The normally elusive leopard offers the Parks most exciting game viewing and Yala has a high concentration of these big cats. They are the islands top predator so are far less shy than elsewhere in the world. Yala is also known for its elephants, saltwater crocodiles, wild boar, sloth bears, monitor lizards and a huge variety of birdlife. After a late breakfast you can relax by the hotels pool before an optional second, early evening park drive.
Day 10
YALA TO COLOMBO
Today we journey to Colombo, stopping at the UNESCO World Heritage site of Galle, with its imposing 16th century Dutch fort. In the late afternoon we arrive at the four-star superior Kingsbury Colombo for one night.
Day 11
FLY TO MALE
Transfer from your hotel to Colombo airport for the 1hr.25 flight to the Maldivian capital Mal with a short domestic flight to Maamagili Regional Airport in South Ari Atoll. On arrival youll be taken by dhoni (traditional Maldivian wooden boat) to the Yasawa Princess, your charming home for the week, where the friendly crew will help you check into your comfortable cabin. During this evenings informal welcome meeting, youll be briefed on weeks itinerary, meet crew members and the other guests on board. Enjoy your complimentary pre-dinner cocktail as you catch the first of many spectacular sunsets over the Indian Ocean.
Day 12
HURASDHOO DESERTED ISLAND
Get your first taste of cruising as we take a short cruise north west to Hurasdhoo, a small deserted island with a white sandy beach. Take the opportunity for snorkelling to experience your first taste of the underwater world or relax and soaking up the sun and cooling off with a dip in the Indian Ocean. The ships tender makes trips to this beautiful island in the morning and afternoon.
For a small additional charge payable locally, you may wish to take a boat out with professional guides and go in search of the graceful giant manta ray visiting a manta ray cleaning station with the option to snorkel (seasonal). Tonight, you may wish to experience reef night fishing with traditional hand line bottom fishing technique (catch and release method).
Day 13
EMBUDU DESERTED ISLAND
A short cruise to the western edge of the atoll we moor up near the small charming deserted island of Embudu. The tender takes you to the island in the morning and afternoon.Access to snorkelling is with ease, with a bit of luck you may find local residents Eagle rays or turtles passing by or simply relax on the long stretch of beach. You really are in the middle of the Indian Ocean. Tonight, why not try your hand at traditional fishing in the open ocean under the stars? Maldivians are true fishermen at heart, so youre in good hands with our local guides.
Day 14
RAIYDHIGAA ISLAND & BEACH BBQ
After a leisurely cruise this morning, we arrive at the island of Raiydhigaa with a natural habour. With soft white sands, lush coconut trees and astonishingly clear water, this remarkably picturesque island appears to have sprung to life from the cover of a travel magazine! There is easy access to the reef for snorkelling. Lunch today is a picnic on the island.
For many, this evening will be a real highlight. Few experiences can compare with a meticulously prepared barbecue on the beach, served with warm Maldivian hospitality. Enjoy a wide selection of delicious food including music and dancing under a starlit sky, a truly memorable experience.
Day 15
ALIKOI RAH SANDBANK
Located in the centre of Ari Atoll is Alikoi Rah sandbank, a snorkellers haven with a house reef abundant to spot colourful fish, turtles and rays, visiting in the morning and afternoon. This evening we watch the sky take on an array of magical shades of orange as we take a sunset cruise to the nearby Maaya sandbank.
Day 16
MAAYAFUSHI SANDBAR
Heading to the northern edge of Ari atoll, visited in the morning and afternoon is the large sandbar of Maayafushi is renowned for flocks of common seabirds.A wonderful sandbar with a stunning sea-green lagoon and a surrounding reef, making snorkelling an absolute dream.
Day 17
MALE
This morning we cross the open Ocean channel of Alihuras Kandu cooling off with a final dip in the warm ocean clear waters on a sandbar en route to Male. Once reaching our final mooring, our dhoni is ready to take you on an informal guided tour to the worlds smallest capital city.
With an area of approximately 2.3 square miles and a population of approximately 150,000, Mal is a fascinating commercial hub of the country. See the bustle and buzz of everyday life including local markets, whilst wondering around. Enjoy locals favourite pastime of having an ice cream or coffee or simply watch the world go by from one of various cafs in the area of Boduthakurufaanu Magu.
Day 18
RETURN FLIGHT
After breakfast, we take our return flight to the UK via Colombo.